Charles Beggs
October 30 1775 - October 21 1869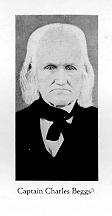 Charles Beggs was born October 30, 1775, in Augusta County, Virginia. He married Dorothy Trumbo in Rockingham County, August 1, 1797, Rev. Ferdinand Nair officiating. Immediately after their marriage the young couple set out for their new home in Woodford County, Kentucky. Kentucky was slave territory. They had no sympathy with that peculiar institution, and deplored its blighting influence. Within about two years these young pioneers were among the home-seekers crossing the Ohio River and located in what is now Clark County, Indiana.
The Book o' Beggs, Robert Henry Beggs and Clara Beardsley Beggs, page 48.
W.H. Kistler Stationery Co, Denver, 1928.
His wife, Sarah Beggs, was a daughter of Captain Charles Beggs, he moved to Kentucky, going on horseback, in 1797. On account of hatred for slavery in 1800 he came to Clark county, Indiana. In 1813, assisted by his friend Abram Epler, he built a water mill; later he became a merchant as well as a farmer. He was a member of the convention to draft a constitution for the territory of Indiana. While at the capital, Vincennes, he became acquainted with General William Henry Harrison, who was at that time, Governor of the territory. A few years later, they fought together in the battle of Tippecanoe in which Charles Beggs commanded a company of cavalry.
History and Genealogy of the Epler, Oldwiler, Huckleberry, Carr and Ewing Families, 1728-1913, pages 20-21
Compiled by Mrs. Emma Epler Knudson, Illinois State Journal Co. Springfield, Ill.