David Epler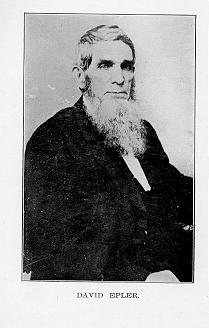 David Epler was a member of Legislature from Morgan county, Illinois. He moved to Illinois from Indiana in 1830. David and Elizabeth (Spengler) had one son named David. He went to California when he was twenty-two and though many efforts were made to find him he was never heard from.
Children of David and Rachel Johnson Epler
John Epler
who was killed by a horse at ten years of age
Joseph Epler
the twin of John, was also killed by a horse at the age of twenty years
Nancy Ann Epler
m. John Milton Epler
Mary Ann Epler
died young
James Morrison Epler
b. Jun 16 1837;m. Hannah Taylor of Springfield, Illinois. He lives in Seattle
Jacob Epler
m. Nellie Thompson of Virginia
Franklin Epler
m. Miss Ensminger of Jacksonville, Illinois. He moved to Seattle and is now the owner of the Epler block in that city.
Louise R. Epler
m. John McHenry
History and Genealogy of the Epler, Oldwiler, Huckleberry, Carr and Ewing Families, 1728-1913, page 24
Compiled by Mrs. Emma Epler Knudson, Illinois State Journal Co. Springfield, Ill.