Isaac Epler
September 1 1808 - March 24 1886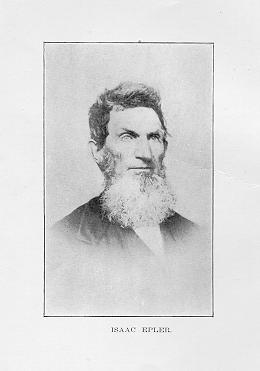 Isaac Epler married Elizabeth Bartholomew and when she died he married her sister Christiana Peckinpaw Bartholomew. They were the daughters of Joseph Bartholomew who was a general in the Black Hawk war and Colonel in the Battle of Tippecanoe. Isaac Epler moved with his father-in-law from Charleston, Indiana to Mackinaw, near Bloomington, Illinois, and was living there during the "Winter of the Deep Snow", which was in 1831. He represented his district in the Legislature of Illinois. Afterwards, he moved to Morgan county, then to Sangamon county, and finally he settled in Nebraska.
Children of Isaac and Elizabeth Bartholomew Epler
Elizabeth Epler
b. Jan 22 1832;m. Elias Stout;He d. 1891;She d. 1910
Children of Isaac and Christiana Bartholomew Epler
George Washington Epler
b. Sep 24 1833;d. Dec 8 1852
John Benton Epler
b. Apr 11 1834;m. 3 times
Isaac Hawk Epler
b. May 22 1835;m. Caroline Stout;d. Feb 1912
Eliza Jane Epler
b. Mar 5 1837;m. John Crum
Jacob Marston Epler
b. Feb 26 1839;m. Mollie Jarardette
Joseph Milton Epler
b. Jan 11 1841;m. Dorothy Beggs
Mary Elvira Epler
b. Sep 20 1842;m. Dr. Cloud of Pleasant Plains;d. Dec 28 1867
David Milo Epler
b. 1842;d. Jan 6 1843
James Knox Polk Epler
b. Nov 11 1844;
History and Genealogy of the Epler, Oldwiler, Huckleberry, Carr and Ewing Families, 1728-1913, pages 25-26
Compiled by Mrs. Emma Epler Knudson, Illinois State Journal Co. Springfield, Ill.