George Epler
March 8 1811 - September 5 1867
Written by his daughter
Emma Lorella Epler Knudson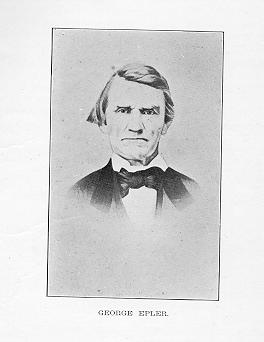 George Epler, after his marriage lived for eighteen years on a farm in Morgan county, near Jacksonville. In 1854, he moved with his family to Sangamon county and located on a farm near Farmingdale. Two of his brothers were also prominent residents and owners of farms in Sangamon county. At the time it was customary to serve whiskey in the field to the helpers at harvest time. The two brothers Isaac and George after a long conference agreed to serve coffee instead of whiskey at a risk of losing the crop. The venture was successful. Help was secured with no trouble and the neighbors followed the example. The same loyalty to principle dominated the lives of all the brothers and their word was undisputed.
George Epler was extensively known and highly esteemed by all who knew him. He had a remakable memory, and could refer to historical events with great accuracy. He was a warm and trusty friend, and yet possessed of a meek and quiet spirit. He was an affectionate husband, a kind parent, and a valuable member of society. His wife, Eliza Jane (Huckleberry) Epler was loved and respected by all for her kindness and good works. "Her life was full of blessings for those around her and her daily walk and conversation was in sweet accord with teachings of the Divine Master, whom she followed as an humble disciple. She was for many years a faithful and consistent member of the Presbyterian church and a regular attendant upon its services." She was very strict in her observance of the Sabbath and trained her children to be truthful and honest and to walk in the fear of the Lord.
Children of George and Eliza Jane Huckleberry Epler
Abram Epler
b. Aug 8 1837;m. Jennie Sanders Jan 28 1875;He d. May 1 1908;She d. May 26 1903
Margaret Ann Epler
b. Jul 30 1841;m. John Galt Feb 11 1862;He was b. Nov 30 1838 and d. Oct 30 1899
Mary Adeline Epler
b. Jun 20 1844;m. Cornelius Correll Jul 18 1878;
Eliza Jane Epler
b. May 29 1846;m. Oswell Skiles Nov 25 1879;He d. Feb 18 1908;She d. Dec 26 1911
George Huckleberry Epler
b. Mar 8 1849;m. Mary Louisa Washburn Dec 11 1878;She b. 1849;She d. Mar 20 1901;He d. Apr 23 1910
Lewis Cass Epler
b. Oct 12 1851;Lives near Sheldon, Missouri
John William Epler
b. May 14 1855;m. Blanche Cornelia Wyant Oct 3 1888;She b. Oct 26 1869 near Springdale, Cedar County, Iowa;She d. Oct 3 1900 on her 12th wedding anniversary
Emma Lorella Epler
b. Jun 13 1859;m. John K. Knudson, Jun 29 1887;
History and Genealogy of the Epler, Oldwiler, Huckleberry, Carr and Ewing Families, 1728-1913, pages 26-28
Compiled by Mrs. Emma Epler Knudson, Illinois State Journal Co. Springfield, Ill.