Abram Epler
February 22 1769 - January 22 1837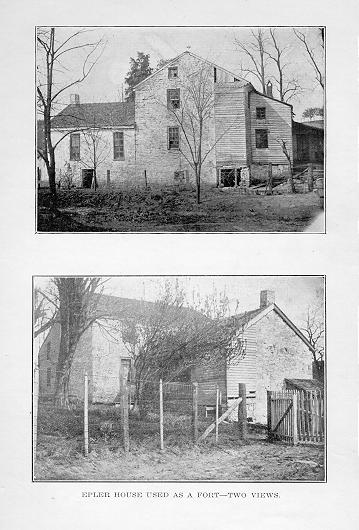 Abram Epler moved to Kentucky in 1797, with his wife and family and located near the falls of the Ohio, six miles south of Louisville. In 1800, he moved across the Ohio river settling on Clark's Grant, now Clark county, Indiana. He was a man of commendable enterprise, a miller, nurseryman and farmer, disposing of his farm products in Southern markets, principally New Orleans, transportation being by flat boats. Steamboats were not yet introduced on Western waters.
The house in which Abram Epler and his family lived while in Indiana was built two stories high of stone and used as a fort. The windows were small and set high in the stone wall so the Indians could not see without having something to climb on. The white people could shoot at the Indians, then crouch out of the way of the arrows. The front door was barricaded and could be watched from the front windows. The other entrance and outlet at the rear of the building was arranged by steps from the lower story through an upright door to the spring under thr fort. This way protected by an outside wall with an opening at the ground in the center sufficient for persons to get in the fort. This was protected by a rear window. During the fight at Pigeon Roost the word came to the neighborhood that the Indians were coming. The women gathered the children and ran to this fort. The ell to the front of the house was built after the Indians became peaceable.
On March 26, 1832, Abram Epler with his wife and family started for Illinois and finally landed at Beardstown. He bought a farm on Indian creek in Morgan county where he died, Jan. 22, 1837. Anna, his wife, died May 3,1847. They are both buried at the old family cemetery near Prentice.
Children of Abram and Anna Oldwiler Epler
Elizabeth Epler
b. Nov 29 1792 in Pennsylvania;m. James Sage 1808;2m. Capt John Norris
John Epler
b. Apr 15 1795 in Pennsylvania;m. Sarah Beggs Dec 2 1818;He d. May 26 1876;She d. Jan 11 1882
Nancy Epler
b. Dec 16 1796 in Pennsylvania;m. John Austin;d. May 1845
Abram Epler
b. Nov 12 1798 in Kentucky;d. at the age of 23
Catherine Epler
b. Oct 3 1800 in Indiana;m. Nathan Blizzard 1817;She d. July 1848;He d. Jul 22 1853
Jacob Epler
b. Feb 19 1803 in Indiana;m. Mary Beggs Sep 20 1827;She d. Oct 24 1824;2 m. Mrs. Julia Ateer 1888;He d. 1890
Isaac Epler
b. Sep 1 1808 in Indiana;m. Elizabeth Bartholomew;She d. Jan 22 1831;2 m. Christiana Peckinpaw Bartholomew Feb 16 1832;She d. Sep 14 1849;3 m. Margaret Huckleberry whose first husband was Clark McAfee Jun 1858;He d. Mar 24 1886;She d. Feb 12 1895 at the home of her daughter, Mrs. Henry Ferguson, of Julian, Nebraska.
George Epler
b. Mar 8 1811;m. Eliza Jane Huckleberry Oct 6 1836;He d. Sep 5 1867; She d. Aug 29 1892
Mary Epler
b. 1813;m. James Short;d. Sep 1838
History and Genealogy of the Epler, Oldwiler, Huckleberry, Carr and Ewing Families, 1728-1913, pages 16-18
Compiled by Mrs. Emma Epler Knudson, Illinois State Journal Co. Springfield, Ill.