Bern Township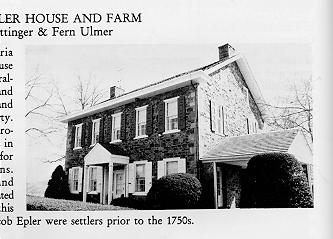 Hans Ebler was born in Baden, Germany and came to this country in 1737 aboard the ship, Samuel, from London. Hugh Percy Master, captain, had a group of 300. He married Anna Barbar Wistar. Among their children were: John Epler born in 1755, and died in 1782, or 85, and Jacob Epler born 1759.
The Eplers acquired property in Bern Township - 500 acres in 1740; 130 acres in 1740; and 681 acres in 1755. Other property acquired by the Eplers included the north-west corner at 6th and Penn Streets, Reading, sold by the Penns in 1749. While the Eplers held title to the property for nearly a century, there were numerous non-Epler landlords. Hans Ebler, or John Epler, probably died in 1775 because his will was probated in that year.
Johannes and Elizabeth had a son Johannes on March 21, 1782. Johannes married Catherine (nee Schell) and they were the parents of Jared Epler who was born on January 12, 1812. Jared married Debora Rothermel, born January 19, 1815, died February 14, 1892. Their children were Harrison, John Valentine, Deborah and Rebecca.
Jared Epler lived in Bern Township "where he followed farming until 1837" when he moved to Reading. He returned to a farm in Bern Township in 1840. After the Eplers held the 6th and Penn Street property sold to them by the Penns in 1749, it finally was sold. Thaomas Barto bought the Green Tree (Tavern) from Jared Epler on April 1, 1845 for $8,000 and renamed it the Keystone House.
It is believed that Jared Epler build the red brick, two-story home before 1850 on what was later known as Cedar Hill Road. Although stone was plentiful at that time in the area, it was said that red brick was more modern. It probably was brought up the Schuylkill River on the canal and was transported from the river to where the house was built. The house still stands on what is now called Van Reed Road.
He gave land for a one-room grade school near the red brick house. The date above the door of the school in 1847. The stone building stands at the northwest corner of Leisz's and Van Reed Roads. Jared Epler also kept the Leisz's Bridge Company records. This was a toll bridge for many years. After he died on August 15, 1865, his son, Harrison R. Epler, kept the records. This record book is in the Berks County Historical Society in Reading.
This incomplete information about the Epler Family background was gathered from many miscellaneious sources left by Edith Dengler Epler who died in 1983. Information was added by here sister, Emma Epler Poetter.
The Book of Bern, pages 18-19
History of the 250 years from the erection of the township in May, 1738 to 1988, by the Historical Committee of Bern Township, Berks County, Pennsylvania.
Jostens, State College, PA, 1992