Epler School
Contributed by Emma Epler Poetter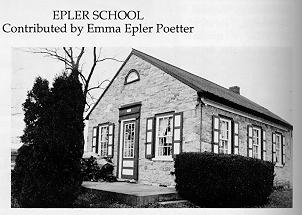 In the 1950s Mr. John Rick, who lived in Bern township, bought the Epler school at an auction with the intention of removing the outhouses for use elsewhere. He purchased the school, but not the property, since the original agreement between the school board and the property owner was that, when the building no longer functioned as a school, the property was to revert to the original owner or his heirs. If the owners insisted, Mr. Rick was required to tear down the school and dispose of it, rather than to abandon it. The owners, however, were delighted to obtain the building free and the property reverted to the "upper farm". For a time it was used to store extra grain. When Mr. Stanley Bright bought the farm, he made the former school into a small, comfortable dwelling.
The Epler girls did not attend Epler school, even though it was close by. They had a private tutor at home for three years until plans could be made to get them to a private school in Reading. The reason was that the teacher sometimes had to teach in Pennsylvania Dutch until the young children learned English as their second language. Many of the families in the area spoke only Dutch, and although Emma's father spoke both languages, her mother spoke only English. The parents decided that English would be spoken at home, and even though English was supposed to be used in the schools, they knew sometimes it wasn't. Emma Epler remembers passing the school on a warm day when the windows were open and hearing the teacher talk to the children in Dutch.
The Book of Bern, pages 140-141
History of the 250 years from the erection of the township in May, 1738 to 1988, by the Historical Committee of Bern Township, Berks County, Pennsylvania.
Jostens, State College, PA, 1992