William Epler 1835-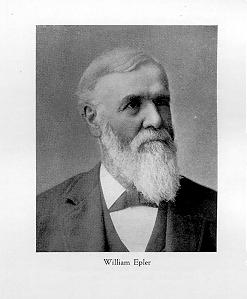 William, the eighth of the family, now a prominent citizen of Virginia, is a grain dealer and shipper. At the age of twenty-eight was a member of the first Constitutional Convention of the State of Nevada, held at Carson City in 1863, in which State he was for eight years engaged as Civil Engineer and Deputy U.S. Land and Mineral Surveyor and during a part of that time connected with the engineering department of the Central Pacific Railroad Company, of California.
In 1869, he returned to Cass County and settled on his farm near Little Indian. In 1874, was elected Sheriff of Cass County, where he has since resided. He married Miss Jennie Woodman of Paw Paw, Van Buren Co., Mich. The ceremony took place April 12, 1859, at Duluth, Minn., and was the first marriage of white persons pronounced in that city. Mrs. Epler died at Star City, Humboldt Co., Nevada, Oct. 2, 1863, leaving one daughter, Miss Nellie W. Mr. Epler again married, Miss Ellen Conover July 5, 1870. Ellen is daughter of Levi Conover and they have two children, Florence and Myron.
History of Cass County Illinois, edited by William Henry Perrin, page 201.
O. L. Baskin & Co., Historical Publishers, Lakeside Building, Chicago 1882
Will Epler was educated in Illinois College. He was a surveyor and surveyed lands in Minnesota, Wisconsin and western states. Later he was a grain merchant in Virginia, Illinois, and now he has a rice plantation near Lake Charles in Louisiana.
Children of William and Jane Abigail Woodman Epler
Nellie Epler
m. Richard Mills, d. 1909, a prominent lawyer of Virginia, Illinois, and a strong supporter of the Presbyterian church.
Children of William and Ellen M. Conover Epler
Florence Epler
b. Aug 19 1873; m. A.L. Watkins, Apr 22 1903. Lives in Lake Charles, Louisiana.
Myron Epler
b. Jun 14 1875. Lives in Kansas City, Missouri, an attache of the New England Nationa Bank; unm.
Clara Epler
b. Jan 30 1886; m. Reuben Preston Goforth, Aug 17 1910. Lives in Lake Charles, Louisiana.
History and Genealogy of the Epler, Oldwiler, Huckleberry, Carr and Ewing Families, 1728-1913, page 37
Compiled by Mrs. Emma Epler Knudson, Illinois State Journal Co. Springfield, Ill.