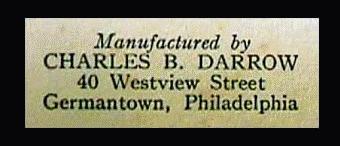 Darrow White Box
This is the notice of sale posted by Michael and Karen Power in February 2000 with links to their photos. Yes, it really is the one you donít think it could be. Itís the original Darrow White Box. This is the first Monopoly game mass produced by Darrow and sold at Wanamakerís in the very early 1930ís. This set is the forerunner of the Number 9 box produced by Parker Brothers.

There are no numbers in the corners of the money, only in the center. There are no tokens as the instructions say to provide each player with their own token. There are no values showing on the squares on the board. And the original Wannamaker price tag is still on the box.

We acquired this magnificent piece of history at an estate sale and have been having a hard time parting with it. But it is time to get it out where it belongs, in the Monopoly community.

Do we know what we have? You betcha we do. We have been told by many serious Monopoly afficiandos that this is the finest example of one of the most rare Monopoly games known to exist. We have researched this game so much that we feel like we know more than the average pedestrian regarding Monopoly at this point in our education. And it has been great fun and we have met some neat folks.

To list just a few things you might want to know. There are:
60 - $1 bills
48 - $5 bills
59 - $10 bills
30 - $20 bills
29 - $50 bills
30 - $100 bills
6 - $500 bills
32 - Houses
12 - Hotels
16 - Community Chest Cards
16 - Chance Cards
2 Dice
All of the property cards are present and accounted for.

If you have any questions, please contact us. If you would like any closeups, please contact us. We have a digital camera and would be happy to provide you with a picture of whatever part of the game you would like to see.

We really believe that this game may never have been used. It is in such beautiful condition that the only wear it shows is what it has probably gotten from age and dust in the air. The money is mint. The game cards are as close to mint as you can get considering their age. You can see the condition of the board. There are no tears, splits, dings or any thing of that nature. The houses and hotels are pristine. The box has taken the most wear from probably being moved around on a closet shelf somewhere for the past 67 years. You can pretty much see the wear in the photograph that follows.

We did have some difficulty getting all of the colors to match identically. We tried our best, but the $5 is pink, the $10 bill is a pale yellow and the $100 bill is a bright orange. The Park Place and Boardwalk cards are a vivid vibrant deep blue, etc.

So which one of you is going to grab up this beautiful piece of history. Let the bidding begin. Buyer pays actual shipping and insurance. If you live in Pennsylvania, add 6% sales tax.

We would especially like to thank Richard Learn for all of the information and direction he has given us with this game. Richard is writing a book on Monopoly. His description is that he is compiling a reference for Monopoly. He is hoping to have his book out by next summer. If you would like to contact him, his email address is: rlearn@gte.net. He said he would welcome any correspondence.