Miniature Stories of the Saints
by Rev. Daniel A. Lord, S.J.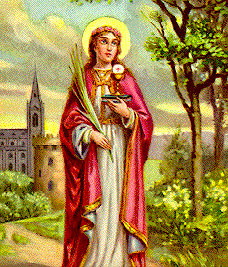 Saint Barbara the Brave Martyr
When Barbara was a little girl, her wicked father imprisoned her in a high tower. So Barbara lived in the tower with only the servants who cared for her. And she was very good. One day a priest passed under her tower. He was singing about Jesus Christ. Barbara heard him. She asked him about his song. He told her all about the Savior. Barbara was overjoyed. "I love Jesus too," she cried. "I am a Christian."
When her father heard this, he was furious. In those days, it was against the law to love Jesus or to be a Christian. So this cruel father dragged his own daughter to the judge. "My daughter is a Christian," he cried. "She is not my daughter any longer." "What shall we do with her?" the judge asked. For he saw that Barbara was good and pure. "Do what the law orders," her father shouted. "Beat her until she is almost dead. Then chop off her head."
So the soldiers carried out that cruel order. But suddenly they saw angels coming. The angels carried the soul of Barbara to heaven. And a terrible flash of lightning struck her cruel father and killed him where he stood. Her Feast is December 4th.
NIHIL OBSTAT ARTHUR J. SCANLAN S.T.D. CENSOR LIBRORUM
IMPRIMATUR FRANCIS J. SPELLMAN, D.D. ARCHBISHOP, NEW YORK