Miniature Stories of the Saints
by Rev. Daniel A. Lord, S.J.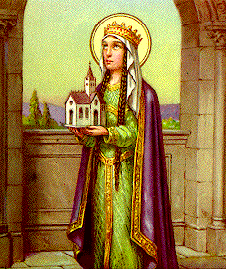 Saint Clotilde Queen of France
Once upon a time there was a very beautiful princess. Her name was Clotilde. She lived in what is now France. Many kings heard of her famous beauty. Each longed to make her his wife. For Clotilde was as good as she was beautiful.
The strongest king of those days was named Clovis the Great. He was very warlike and often cruel. He demanded that Clotilde marry him. So she did. But she was sorry because he was not a Christian. His sweet wife loved him very much and he loved her. So he soon became less cruel. He was more merciful to his enemies.
Soon a powerful enemy attacked him. "I will pray to Jesus for you," Clotilde said, "and you must pray too." So they both prayed. And Clovis won a great victory. He was grateful to his wife and to Jesus who had helped him. He became the first Catholic king of France. When her husband died, Clotilde spent her time in prayer and in good deeds. Her Feast is June 3rd.
NIHIL OBSTAT ARTHUR J. SCANLAN S.T.D. CENSOR LIBRORUM
IMPRIMATUR FRANCIS J. SPELLMAN, D.D. ARCHBISHOP, NEW YORK