Miniature Stories of the Saints
by Rev. Daniel A. Lord, S.J.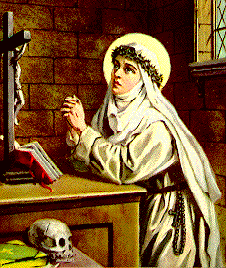 Saint Catherine of Siena the Dominican
Catherine of Siena was one of the greatest women that ever lived. When she was a little girl, our dear Lord appeared to her. "Please give me your heart," he asked. She gave it willingly. Jesus gave her His Sacred Heart in return. Many rich young men wanted to marry this beautiful girl. Instead, she became a Dominican sister.
In those days, the Pope did not live in Rome. He had moved to France. Catherine went to see him. "Holy Father," she said, "your place is in Rome. Come home to your people." The Pope obeyed this simple little nun. Many of the princes were furious. They did not want the Pope in Rome. So they tried to elect a false Pope. Catherine, without fear, told them this was wrong. They were afraid of her. They listened and obeyed.
The Pope knew she was very wise, and often asked for her advice. She always told him just what Jesus wanted and what would please God. Although she was only thirty-three when she died, the whole world knew this saintly girl. They loved this brave woman. Her Feast is April 30th.
NIHIL OBSTAT ARTHUR J. SCANLAN S.T.D. CENSOR LIBRORUM
IMPRIMATUR FRANCIS J. SPELLMAN, D.D. ARCHBISHOP, NEW YORK