Miniature Stories of the Saints
by Rev. Daniel A. Lord, S.J.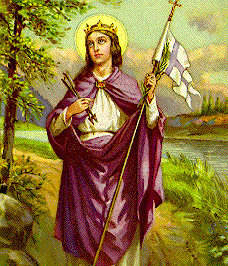 Saint Ursula and her Companions
When Ursula was a little girl, she loved children very much. She therefore became a teacher. Mothers and fathers sent their boys and girls to her. She taught them how to be good. She told them about Jesus and Mary. She had a fine school for them in England.
But terrible pagan armies came into England. They threatened to kill all Christians. So Ursula took her pupils and her other teachers and went with them to France. But once again, she met peril. The terrible Huns came with their armies. They hated Jesus Christ and they killed all Christians. So they captured Ursula and her sweet young companions.
They asked Ursula to let them make slaves of the little boys and girls. Ursula refused. They promised to let them all go free if they would give up Christ and the Catholic faith. They all refused. So the army of the Huns drew their swords. They pulled back their bows and arrows. They killed Ursula and all her companions. And like glorious martyrs they went straight to heaven. Her Feast is on October 21st.
NIHIL OBSTAT ARTHUR J. SCANLAN S.T.D. CENSOR LIBRORUM
IMPRIMATUR FRANCIS J. SPELLMAN, D.D. ARCHBISHOP, NEW YORK