Why McClellan in 1864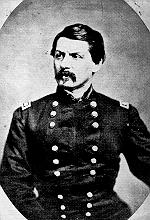 George Brinton McClellan
The McClellan-worship of the Democratic party was a curious exhibition of contradictions and stultifications. Why was he pitched upon as leader? Was it because he was a Democrat? So were Generals Grant, Sherman, Sheridan, Thomas, Logan, McClernand, Corse, Bragg, Slocum, Hancock, Sickles, originally; and many of them remained Democratic partisans to the last. Indeed, the names of Generals Grant, Sherman, Sheridan, Thomas, and Hancock were all prominently mentioned as possible Democratic nominees in 1868; and up to a few months before the time to make nominations, it seemed in doubt which ticket Grant would head. Hancock's turn came twelve years later. Furthermore, all those mentioned were successful leaders, while McClellan had little else than defeats to his account. But, perhaps it was this that distinguished him in Democratic eyes.
Ostensibly, the party espoused his cause on the alleged ground that the administration had not supported him in the field because he was a Democrat. Did the Democratic party, then, want him to succeed - to whip the South? However, be this or that as it may, what happened was that McClellan was raised into a Democratic idol, and songs with a "Little Mac" refrain not only became the staple of the variety shows and free concert saloons, but during the last years of the war held the same place at Democratic mettings that the "Star Spangled Banner" or "The Battle Cry of Freedom" did at Republican rallies.
So far as the leaders are concerned, they probably argued like this: "one of our own sort would stand no chance with the masses. We must have a soldier; but a successful one would not serve our purpose, nor is there any likelihood that we could get him to stand on the kind of platform we are determined to adopt." So it was McClellan or a civilian.
"Little Mac's" selection did not, however, go wholly unchallenged. It was fought in the Convention by the extreme wing tooth and nail. Its utter absurdity was unflinchingly shown up by Congressman Harris, of Maryland. "Do you want McClellan because he is a great soldier?" he shouted. "Why, he has never won a battle. [Great Uproar.] Does he stand for liberty? Why, the military oppression under which Maryland suffers was instituted by him. It was he that struck the first blow. ... The sons of Maryland were imprisoned by that devil McClellan; and all the charges I can make against Lincoln and his administration, I can make against McClellan."
Harris was frequently interrupted; he knocked down a delegate who sought to stop him; and it was not until he had declared that he was armed and prepared to defend the right of free speech to the death, that he was permitted to finish his indictment of the Democratic hero, namely: that he had ordered General Banks, if necessary, to suspend the habeas corpus; that he had declared the President had the irght to abolish slavery as a war measure; that he had taken steps to arrest the Legislature of Maryland; that he was a mere tool of Abraham Lincoln, who "combined with military incapacity the fact that he interfered with and destroyed the civil rights of the people."
But McClellan was nominated, and the platform not only declared the war a failure, but demanded that "immediate efforts be made for a cessation of hostilities." But this part the candidate disavowed in his letter of acceptance.
---
Bygone Days in Chicago by Frederick Francis Cook, pages 84-86
A. C. McClurg & Co., Chicago, 1910.