Prisoners of State
April 19 1861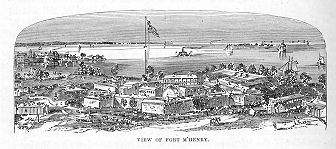 Fort McHenry
Since the 19th of April, the Government had felt compelled to resort to extraordinary measures for its preservation, and much was done "without due form of law," excepting what the exercise of the war powers of the President might justify. On the day after the massacre at Baltimore, the original dispatches in the telegraph offices in all the principal cities in the Free-labor States, received during a year previously, were, by order of the Government, issued on the 19th, seized by the United States Marshals at the same hour, namely, three o'clock in the afternoon. The object was, to obtain evidence of the complicity of politicians in those States with the conspirators. Every dispatch that seemed to indicate such complicity was sent to Washington, and the Government was furnished with such positive evidence of active sympathy with the insurgents that the offenders became exceedingly cautious and far less mischevious.
At about the same time, the necessity for arresting and imprisoning seditious persons in the Free-labor States seemed clear to the apprehension of the Government, and such were made on simply the warrant of the Secretary of State. These offenders were confined in Fort McHenry at Baltimore; Fort Lafayette, near New York, and Fort Warren, in Boston harbor. Writs of habeus corpus were issued for their release. At first some of them were obeyed, but finally, by order of the Government, they were disregarded, and their issue ceased. The most notable of these cases, at the beginning, was that of John Merryman, a member of the Maryland Legislature, who was cast into Fort McHenry late in May. The Chief-Justice of the United States (R. B. Taney), residing in Baltimore, took action in the matter, but General Cadwalader, the commander of the department, refused to obey the mandates of this functionary, as well as that of the inferior judge, and the matter was dropped, excepting in the form of personal, newspaper, and legislative discussions of the subject, the chief questions at issue being, Which branch of the Government has the power to suspend the privilege of the writ? and Do circumstances warrant the exercise of that power? We will not discuss that question here.
Many arrests were made; among them a large number of the members of the Maryland Legislature, the Mayors of Baltimore and Washington, Marshal Kane and the Police Commissioners of Baltimore, and a number of other prominent men throughout the country. Within the space of six months after the tragedy in Baltimore, no less than one hundred prisoners of state, to whom the privilege of the writ of habeus corpus was denied, were confined in Fort Lafayette alone.
---
Pictorial History of the Civil War in the United States of America by Benson John Lossing, pages 450-451
Thomas Belknap, Hartford, 1868.