To the People of South Carolina
December 10 1832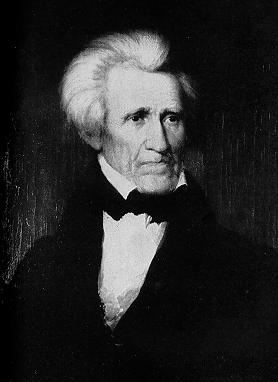 Andrew Jackson
Fellow-citizens of my native State, let me not only admonish you, as the first magistrate of our common country, not to incur the penalty of its laws, but use the influence that a father would over his children whom he saw rusing to certain ruin. In that paternal language, with that paternal feeling, let me tell you, my countrymen, that you are deluded by men who are either deceived themselves, or wish to deceive you. Mark under what pretences you have been led on to the brink of insurrection and treason on which you stand!
If your leaders could succeed in establishing a separation, what would be your situation? Are you united at home? Are you free from the apprehension of civil discord, with all its fearful consequences? Do our neighboring republics, every day suffering some new revolution or contending with some new insurrection, do they excite your envy? But the dictates of a high duty oblige me solemnly to announce that you can not succeed. The laws of the United States must be executed. I have no discretionary power on the subject; my duty is emphatically pronounced in the Constitution. Those who told you that you might peaceably prevent their execution deceived you; they could not have been deceived themselves. They know that a forcible opposition could alone prevent the execution of the laws, and they know that such opposition must be repelled. Their object is disunion. But be not deceived by names. Disunion by armed force is treason. Are you really ready to incur its guilt? If you are, on the heads of the instigators of the act be the dreadful consequences; on their heads be the dishonor, but on yours may fall the punishment. On your unhappy State will inevitably fall the evils of the conflict you force upon the Government of your country. It can not accede to the mad project of disunion, of which you would be the first victims. Its First Magistrate can not, if he would, avoid the performance of his duty. The consequence must be fearful for you, distressing to your fellow-citizens here and to the friends of good government throughout the world. Its enemies have beheld our prosperity with a vexation they could not conceal; it was a standing refutation of their slavish doctrines, and they will point to our discord with the triumph of malignant joy. It is yet in your power to disappoint them ...
Tell them that, compared to disunion, all other evils are light, because that brings with it an accumulation of all. Declare that you will never take the field unless the star-spangled banner of your country shall float over you; that you will not be stigmatized when dead, and dishonored and scorned while you live, as the authors of the first attack on the Constitution of your country. Its destroyers you cannot be. You may disturb its peace, you may interrupt the course of its prosperity, you may cloud its reputation for stability, but its tranquillity will be restored, its prosperity will return, and the stain upon its national character will be transferred, and remain an eternal blot on the memory of those who caused the disorder.
---
Documents of American History, edited by Henry Steele Commager, pages 267-268
Appleton-Century-Crofts, New York, 1949
Great Debates in American History, Volume Five, pages 85-88
Current Literature Publishing Company, New York, 1913